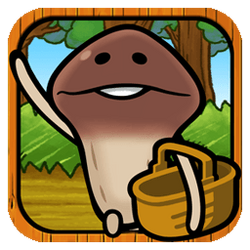 This section has been completely updated my Namster2k. I'll gladly answer any questions you have about the game.
There is an island with a forest, where many funghi lives.
Every day, funghi picks up ingredients to make their food.
Such a peaceful life, but also getting tired of eating the same dish everyday!
Now, they decided to go on a little walk to find a new recipe...!
Funghi and its friends found a beautiful stone.
And a secret is hidden there in this stone.
Let's go for a little walk to find new recipes and the secret of the beautiful stone.
About the Game
Edit
"Walk-A-Funghi" was released on November 20, 2014. The Japanese title is "なめこのおさんぽ".
It's the 5th game in the series, where this time the gameplay is completely different from the first 4 games. This game's style and gameplay are based on Mogumon.
Let's lure many funghi and go on a little walk with them!!
Now Funghi and its friends are out of "Garden"!!
Totally different app of Funghi is now available!!
Funghi and its friends go on a little walk!!
Let's take Funghi to the destination indicated on the map!!
Walks become more fun with together with more friends!
They will pick up the ingredients on their walk.
Lure different Funghi!
Make the Food from the picked ingredients.
You can use Foods to lure other new Funghi!!
The kinds of lured Funghi depends on the food.
Let's find many friends and go on a walk!!
Food can be used in many ways
The use of Food is not limited to "Lure" funghi!
Feeding the food to funghi will increase the collectable number of ingredients.
Bringing the food as a Lunch will extend the time of walk.
Complete the Libraries
Two Library are in the game.
Let's complete both "Funghi Library" and "Food Library"!
Promotion Video
Edit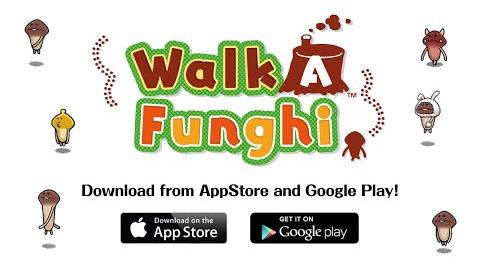 The game is available as a free download on the Apple AppStore and Google Play Store.
Location Map & Quests
Edit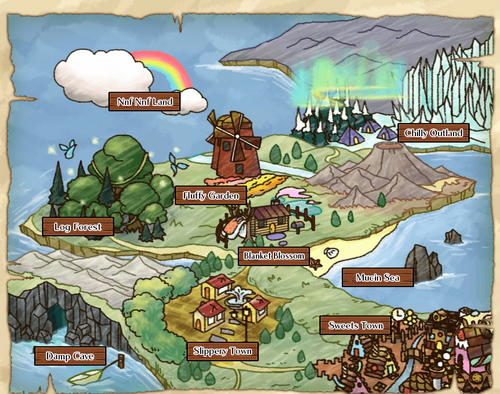 Order #
Location Name
Pick-able (Chance)(Type)
Pick Cycle
Quest
1
Log Forest
Bread (★★★)
Meat (★★)
Egg (★★)
0:01:30
Take a Walk
2
Mucin Sea
Fish (★★★)
Shrimp (★★)
Clam (★★)
Seaweed (★)
0:02:00
When Going Dry
3
Slippery Town
Flour (★★★)
Rice (★★★)
Soy Sauce (★)
0:02:30
That's a Gourmet?
4
Damp Cave
Onion (★★)
Cheese (★★)
Potato (★★)
Carrot (★★)
0:03:00
Taste the World
5
Fluffy Garden
Lettuce (★★)
Tomato (★★)
Spice (★★)
Honey (★)
Pumpkin (★)
0:03:30
Dig Here Nnf Nnf
6
Chilly Outland
Sugar (★★)
Cheese (★★)
Carrot (★★)
Milk (★)
Plum (★★)
0:10:00
Melancholy of Aurora
7
Nnf Nnf Land
Fruit (★)
Milk (★★★)
Soy Sauce (★★)
Egg (★★)
0:07:00
See the Rainbow
#
Ver.1.1.0 Update
New Year
01/08/15
Rise and Shine
8
Ver.1.2.0 Update
Sweets Town
Chocolate (★★)
Fruit (★★)
Sugar (★★)
Bean (★)
0:06:00
Home Sweet Home
9
Ver.1.3.0 Update
Blanket Blossom
Cabbage (★★)
Meat (★★)
Egg (★★)
0:06:00
Slumbering Spring
10
Ver.1.4.0 Update
New Story
04/16/15
The Lost Yeti
11
Ver.1.5.0 Update
New Story
05/14/15
Forgotten Clue
12
Ver.1.6.0 Update
New Story
06/09/15
Ignorance is Bliss
13
Ver.1.7.0 Update
Tasty Shroom (★)

Bean (★★)

Seaweed (★★)

Honey (★★)

Pumpkin (★★)

06/23/15
Oh Lonesome Meat