Stretch
is one of the common variation of
Funghi
. Not to be confused with
Horsetail
.
Appearance
Edit
As its name implied, it is an elongated version of Funghi.
Description
Edit
Mushroom Garden

"Have you ever seen such a tall Funghi? I didn't think so."

Mushroom Garden Deluxe

Placeholder Catalog Entry

"A very long Funghi.
His motto is Go
along with it.


Very self-conscious.

(?)

"

HLW-05

"Full-body compound
fractures?!
Wow, take care, huh?
Just kidding. 2☆."
NEO Mushroom Garden

"Lay couple of them together and come back next morning. You will find them in a knot."
Theme Comments

Hush Hospital : "Is this how you use a crutch?"
Merry Christmas : "Oh my, this boot is used."
Funghi Hinadan : "Can you fetch me a stretch?"
Funghi Castle : "Satisfied with how I look."
Ghostly Bridge : "Reaping what you sow?"
Nostalgic Home : "Oh boy, parent teacher conference."
Tohato Paradise : "Can be used as a POTECO stand."
Bike Rider : "Spent all savings on Tasty Co.'s Road."
Walk-A-Funghi

"Long funghi. There are rumour that some grow very VERY long."
Lures (Walk-A-Funghi)
Edit
Click [Expand] to open collapsed information.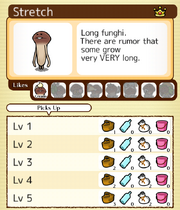 It contains spoiler of NEO Mushroom Garden.
Click [Expand] to open collapsed information.
Personality : Short Tempered
Skill : Tie a Knot
Favorite Line : Live Long and Prosperous
Favorite Place : Long Island
Charm Point : Height
Weak Point : Tummy
Wishes : Longer Legs
Dream Body : Muscular Slim