Appearance
Edit
The design and description of the Funghi Stewtwo refers to both - nabe (鍋, なべ), a term referring to all varieties of Japanese one pot dishes, also known as hot pot or one pot dishes, as well as - onsen (温泉) a term for hot springs in the Japanese language, though the term is often used to describe the bathing facilities and inns around the hot springs.
Description
Edit
Mushroom Garden Seasons
"Hearty winter stew.
Poor things, they
think it's a spa."
Mushroom Garden Deluxe
MNR-19

"Funghi bathing in a pot
shaped bathtub.
Bath salt? Go ahead and add them,
it makes the soup pleasant.

(?)

"
NEO Mushroom Garden
"Place pot somewhere obvious so that it actually looks safe. This is the result you get."
Theme Comments

Grassy Green: "Open air bath is my style."
Fung-Sea Castle: "Good diet makes healthy skin."
Funghi Onsen: Bit of timber aroma.
Riverside Camping: Salt or pepper? Your choice.
Bike Rider: "Rolling this? No way!"
Walk-A-Funghi
"Getting too hot, after much boiling."
Lures (Walk-A-Funghi)
Edit
Click [Expand] to open collapsed information.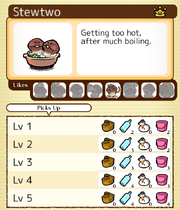 It contains spoiler of NEO Mushroom Garden.
Click [Expand] to open collapsed information.
Personality : Honest
Skill : Bath Preparation
Favorite Line : Better Safe
Favorite Place : Hot Pot
Charm Point : Pot
Weak Point : Cold Sauce
Hates : Pot Tyrant
Curious About : Sweet Pots