Macho is one of uncommon variation of Funghi.
To breed Macho(BRD-06) in Mushroom Garden Deluxe, you must have at least one Capless(CLB-09) that growing on log and Fertilizer II must be activated.
Appearance
Edit
Appears to be a masculine Funghi that built up his upper body, as his name Macho meaning that tending to display masculine characteristics.
Description
Edit
Mushroom Garden

"Wow, he's so strong!
You'd never guess he
was once a wimp."
Mushroom Garden Deluxe
HLW-14

"What a muscular guy.
The costume is sweet
and it fits him.
4☆!"

BRD-06

"Loves his muscles.
The ladies love him.
Will make miso soup
taste saltier...

(?)

"
NEO Mushroom Garden

"What? Too much upper body
work out? But I would not fit the
screen if I did my bottom half!"
Theme Comments

Grassy Green : "Got your log? Let's Go!"
Fantastic Fest : "What's this? Pumping iron?"
Beached Shore: "More slippery with sun oil!"
Frisky Field : "Working in the field is good exercise."
Funghi Hinadan : "May I carry your burden?"
Carp Streamer : "Nice toupee."
5th Anniversary: "Hand carved. With my hand."
Nostalgic Home : "Breaks things. A lot."
Funghi Forest : "Big muscle on the air!"
The Battle Cats: "More power! Less brains!"
Funghi Roll Cakes: "Cooking with muscles."
Walk-A-Funghi

"Very muscular funghi.
Can carry
many "Baskets.""
Lures (Walk-A-Funghi)
Edit
Click [Expand] to open collapsed information.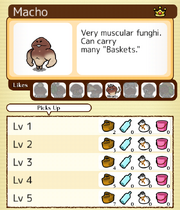 It contains spoiler of NEO Mushroom Garden.
Click [Expand] to open collapsed information.
Personality : Simple
Skill : Body Building
Favorite Line : Muscularity
Favorite Place : Sports Gym
Charm Point : Biceps
Weak Point : Youth Pictures
Hobby : Weight Training
Hates : Steroids