Biggy is one of uncommon variation of Funghi.
Appearance
Edit
Appears to be a literal bigger version of Funghi with visible teeth.
Description
Edit
Mushroom Garden

"A pretty big Funghi.
He's tougher than
ordinary Funghi."

Mushroom Garden Deluxe

GTU-10

"Large-built Funghi.
Strong and friendly.
Fights well, but it
doesn't matter here.

(?)

"

HLW-19

"He'd get 4☆ for
giving candy away,
but he's stealing it
so he only gets 1☆."
NEO Mushroom Garden

"Big body, but small heart.
Says he ain't afraid of no ghosts,
but wants to call the busters."
Theme Comments

Funghi New Year : "Eat well! Write well!"
Nightly Clouds : "Equipped Cloud! DEF raised by 0!"
Funghi Station : "Is that log allowed for carry on?"
Hydrangea Park : "Funghi baseball is the best!"
Walk-A-Funghi

"Let's go out walking!
With lots of baskets!"
Lures (Walk-A-Funghi)
Edit
Click [Expand] to open collapsed information.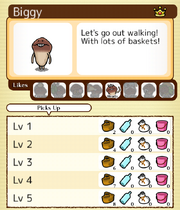 Hamburger - 6, 6, 3, 3, 3
Clam Chowder - 5, 5, 5, 4, 10, 7
Cheese Plum Chicken - 3, 4, 3
It contains spoiler of NEO Mushroom Garden.
Click [Expand] to open collapsed information.
Personality : Big and Cuddly
Skill : Home Improvement
Favorite Line : Bigger the Better
Favorite Place : Appliance Store
Charm Point : Healthy White Teeth
Weak Point : Ghosts
Dreams : Build Own Home
Worries : Gained Weight