Anemony is a Mutant Funghi and can be grown using the Beach Machine in NEO Mushroom Garden.
Appearance
Edit
A purple gradient Funghi with pale blue tentacles on the top of its head to make the lines all over its body, and pale blue eyes. It has a blank expression with a very wide semi-smile.
Personality
Edit
The description implies that Anemony is either slow, or possibly lazy.
Description
Edit
Mushroom Garden
"He catches his prey
with his poisoned
tentacles."
Mushroom Garden Deluxe

SEA-09

"Ocellaris clownfish.
The girls all love
ocellaris clownfish.
I'm so jealous...

(?)

"
NEO Mushroom Garden
"That stripes actually looks cute, but does not get popular. I wonder why? Is it my skin color?"
Theme Comments

Beached Shore: "Fish loves it. Girls hate it."
Fung-Sea Castle: "Looks scary? How about this!"
Walk-A-Funghi
"Moves at a speed of
few inches per hour.
When on a walk, is doing
everything to catch up
with everyone. Burns
out after each walk."
Lures (Walk-A-Funghi)
Edit
Click [Expand] to open collapsed information.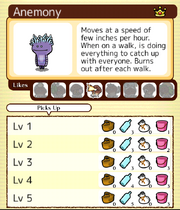 It contains spoiler of NEO Mushroom Garden.
Click [Expand] to open collapsed information.
Personality : Alluding
Skill : Symbiosis
Favorite Line : Help Each Other
Favorite Place : Reef
Charm Point : Sting
Weak Point : Gloomy Eyes
Friend : Damsel Fish
Worries : String HImself