Appearance
Edit
A wooly Funghi with the appearance of a Swiss Saint Bernard, complete with first aid barrel.
Description
Edit
Mushroom Garden Seasons
"Likes to rescue lost
mountaineers. Carries
Funghi soup around."
Mushroom Garden Deluxe
GTU-22

"Barrel is vacuum insulated,
keeping the soup warm.

I want one of those too.

(?)

"
Walk-A-Funghi
"Knows the ins and outs
of alpine survival.
Will even save you from
a major avalanche."
Lures (Walk-A-Funghi)
Edit
Click [Expand] to open collapsed information.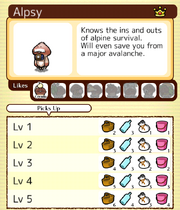 Ice Box Lunch Box - 6, 10, 5, 5, 6, 3
Paris-Brest - 6, 3, 7, 3, 3
Jumbo Sausage - 7, 3, 5, 3, 3, 2